Marker and chalk drawing boards
Surely all parents are faced with the problem of how to protect wallpaper and furniture from the drawings of their child. All children love to draw, so it's best to give them that opportunity. One of the most convenient modern options for this class is the drawing board marker. They not only make life easier for parents, but also contribute to a better development of the child.
Why do children draw
Many people can not understand why their child loves to draw so much. The fact is that the desire for creativity is in all children. And the duty of parents to support him, because drawing is very useful for the child. What benefits does it bring?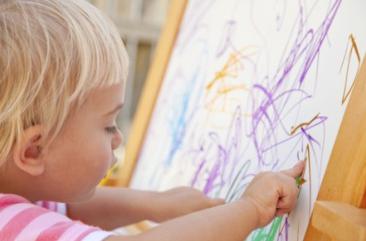 - develops fine motor skills, strengthens the muscles of the fingers and prepares a hand for writing;
- helps the kid to express his feelings and emotions;
- develops creative abilities;
- contributes to the formation of aesthetic taste and understanding of beauty;
- soothes the child, helps to become more balanced.
Where is the best child to draw
Although drawing brings great benefits to the psyche of the baby, this process has its drawbacks. For example, the child has to sit at the table, which is harmful for the formation of a correct posture. Therefore, it is important to provide the child with the opportunity to create without harming his health. This is assisted by a variety of marker drawing boards. What are their positive qualities? There are a lot of them:
give the child the opportunity to draw while sitting, standing and even "on the go", running past;
keep clean wallpaper and furniture, because children love to try felt-tip pens and crayons on vertical surfaces;
All marker boards have additional functions: the ability to attach magnetic figures and sheets of paper, as well as a variety of educational accessories, such as watches or abacus;
expand opportunities for creativity, because on such a board you can draw with felt-tip pens, crayons, pastels and even paints and pencils if you attach a sheet of drawing paper;
give the child the right to make a mistake: you can erase any incorrectly drawn line, try to write a letter several times and easily correct a misunderstood drawing;
they are more economical, because after displaying a picture, you can erase it and draw a new one; you don't need to throw out damaged paper;
They are also very useful for older children, as they allow them to learn how to write letters, solve problems, and more effectively do their homework.
What are the whiteboard for drawing with a marker?
1. The most functional are bilateral easels. They can be put in any place, they are folded and easily cleaned, for example, behind the cupboard. In addition to the possibility of drawing with markers, letters, numbers, figures can be attached to the magnetic surface, and collages can be made from photos. The second board on such easels is the usual slate, for drawing with crayons. Such floor easels can be the same on both sides: either magnetic or ordinary. But such boards are less functional.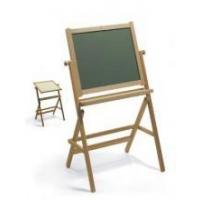 2. The usual wall board for drawing with a marker is used not only at home, but in children's institutions, lecture halls and even in offices.
3. The most simple board for drawing with a marker (for children) is made of pressed cardboard. It is one-sided and laminated with a coating, on which you can write with special water-based felt pens. Most often such boards are lined and designed to prepare children for school.
4. Magnetic drawing board with a marker can be attached to the refrigerator or other metal surface. This is very convenient, since the child is next to the mother who does household chores, he creates, and the kitchen furniture remains clean. It can be attached at a convenient height for it, and after use it can be removed and hidden.
5. The transformer easily develops in a children's table. Behind him, too, can be drawn with markers and chalk. Sometimes the tabletop is painted with letters and numbers, which helps the child in their study.
6. Floor-standing, with fixtures for a drawing paper sheet, it is possible to draw not only with markers and chalk, but also with pencils and even paints.
7. Some manufacturers offer more expensive products with special features. For example, with a luminescent coating that allows you to observe how the pattern glows.
What else do you need for boards
Most often, when buying an easel, parents get a lot of extras. After all, for normal creativity, a child needs special markers of several colors, a sponge or a microfiber cloth to erase what is written. It is easy to play on this surface with the help of magnetic figures, learn letters and numbers, learn to read and write. Slate is for drawing only.It's best to erase ordinary crayons from its surface. But there are a limited number of colors, so you can also use dry pastels. It gives more opportunities for creativity, but more difficult to erase. High-quality easels have special shelves for laying out accessories for drawing, sometimes even lockable lockers for storage. The only drawback of such boards is that when writing chalk strongly flakes. Therefore, to keep the floor clean, you need to lay an oilcloth or at least an old sheet under the board.
Features easels
The most convenient device for drawing is an easel. Most often it is foldable, which makes it possible to remove it when it is not needed.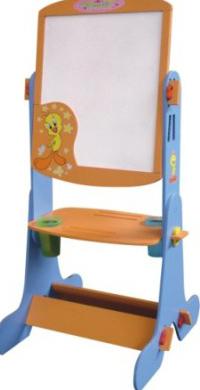 An easel can be placed anywhere in the apartment, transferred to the kitchen, so that the child is always next to the mother. They come in a wide variety of shapes and colors. Usually they are made of plastic or wood. Quality models have the function of adjusting the height of the board, depending on the height of the child. Most easels are equipped with two boards that can still be tilted in different ways.He most often have a bottom shelf for stationery, there may also be boxes for magnetic figures. Board for drawing with a marker is usually metallic, white. Sometimes it turns on the other side, where the surface is more rough. But most often the plane for chalk is on the back of the easel. You can paint on it with dry pastel, which is washed much worse, and parents will have to wash the product more carefully.
Why need an office board
For drawing with a marker, such devices are often hung in offices, schools, lecture halls, and government offices. Features of these boards allow you to easily leave daily notes for reminding, conduct training, arrange a visual demonstration and plan the day.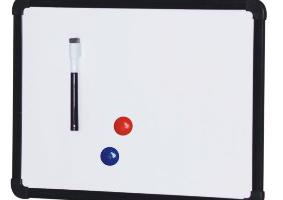 They are convenient for the authorities, and for ordinary employees. In addition to inscriptions with a marker, which are easily erased, any information can be attached to the board with magnets. This may be a motivating slogan, a work plan for the day or a reminder of an appointment. These inscriptions will always be visible and will make the work more efficient.Therefore, more and more offices buy such marker boards. They can be both wall-mounted and floor-standing, in the form of an easel, which can be moved to any place. They are made mainly of metal, so that they can withstand the conditions of intensive use. Their difference from children's boards is also in the fact that the kit includes only a few markers and 2-3 magnets, and the board itself is white, with a simple frame.
Related news
Marker and chalk drawing boards image, picture, imagery