Vegetarian salads for the New Year: recipes
On the eve of the New Year, each hostess is trying to think out a festive menu. However, if you adhere to certain rules of nutrition, then the usual menus are not suitable for you. Therefore, we offer a selection of vegetarian salads for the New Year.
Vegetarian "Olivier"
Well, what a New Year's holiday without "Olivier"! What if you do not eat meat? In this case, you can cook vegetarian salads, including "Olivier" for the New Year.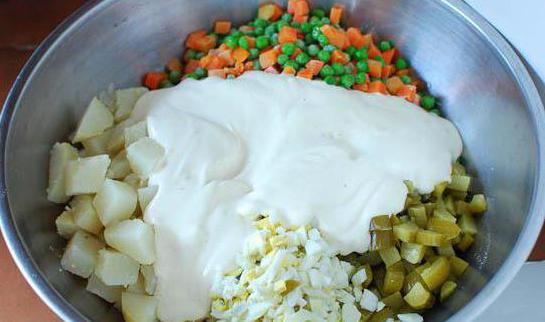 Ingredients:
three carrots;
jar of canned peas;
five potatoes;
gherkins (230 g);
bunch of green onions;
mayonnaise;
pepper;
greenery.
Boil potatoes and carrots until cooked. Cool in cold water, peel and dice. Grind gherkins, greens and onions. Combine all the ingredients together, add the green peas and dress the salad with mayonnaise. When serving, decorate with chopped green onions and greens.
"Amanita"
"Amanita" - bright vegetarian salad for the New Year, which is able to decorate any table.
Ingredients:
canned mushrooms (480 g);
canned corn and the same beans;
mayonnaise;
Korean carrot;
cherry tomatoes (230 g);
salt.
For the salad mushrooms are washed and finely chopped. Canned beans are doused in water and sent to a salad. Corn is also sent there. But in the beginning it is necessary to squeeze the carrots a little, so that the extra liquid that is not needed for the dish is gone. Mix the ingredients and fill with mayonnaise.
The salad is put into a deep dish, and in a circle we decorate it with greens. In the middle of the same lay out cut into half cherry tomatoes. On them with mayonnaise we draw white dots. Here is a bright mushroom clearing.
Salad with cheese, orange and carrots
Vegetarian salads for the New Year are easy and nutritious, and therefore those who follow diets can adopt the recipes. The usual dishes that we prepare for the holidays, enough calories and invariably lead to excess centimeters. What can not be said about vegetarian dishes.
We offer a recipe for a delicious vegetarian salad that will be appreciated even by children. It can be cooked with carrots in Korean or fresh. The taste is slightly different. Of course, if you adhere to proper nutrition, it is preferable to use raw vegetables.
Ingredients:
two large oranges;
hard cheese (160 g);
Adyghe cheese (160 g);
one raw carrot or Korean carrot (90 g);
mayonnaise.
This salad is laid out in several layers. At the bottom of the vase impose oranges, cut into small cubes. It is better to use deep dishes, because oranges are juicy and give off liquid. We grease fruit with mayonnaise. The next layer is Korean carrot. If you use fresh, then it must be crushed on a grater. Then we lay out the Adygei cheese, add mayonnaise. Sprinkle the salad with chopped hard cheese. It has a savory sweet taste. For children, you can use low-fat yogurt or sour cream as a dressing. In this case, the salad becomes even more tender.
Herring under a fur coat
Thinking over the menu of vegetarian salads for the New 2018, you can offer to cook the classics - herring under a fur coat. This traditional dish has long been an attribute of any holiday. An interesting fact is that the salad has an interesting history. According to the legend, in 1918 he united the warring parties: the peasants and the proletariat. In one very popular tavern regularly gathered supporters of different political views and representatives of different classes.Every evening, the gatherings turned into violent disputes, ending in fights. The dishes hit, the tables turned over ...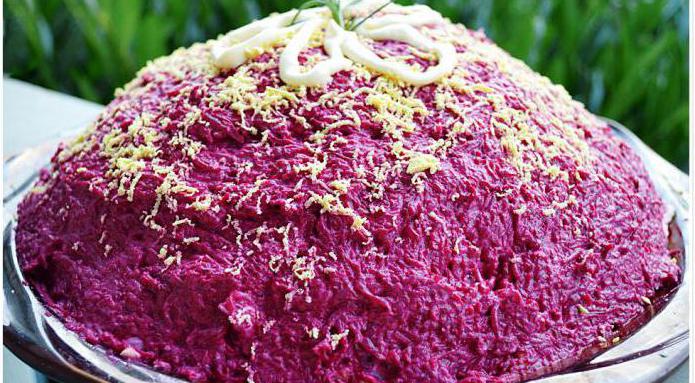 The tavern chef found a very reasonable solution to the conflict. He came up with a new salad, which combined the preferences of different parties. Herring was loved by representatives of the proletariat, and potatoes and carrots by peasants. In addition, the dish was dressed with French mayonnaise, which made it even tastier. All visitors rated it. In addition, the salad was incredibly satisfying. The guests are now less drunk, and therefore less fought. This story took place just before the New Year. The recipe for a vegetarian salad is firmly established in our lives and is always associated with the holidays.
If you do not eat fish, then herring in a salad can be replaced with nori algae.
Ingredients:
carrots (380 g);
potatoes (380 g);
beets (380 g);
herring or algae (280 g);
bow;
pepper;
lean mayonnaise.
Boil vegetables until fully cooked and ship to cool in cold water. Chop the potatoes in the form of small cubes, and rub carrots and beets, but in different containers.
Put potatoes with onions at the bottom of the dish and grease them with mayonnaise.Next comes a layer of algae or herring. Then carrots and beets. It is worth remembering that all layers, except the fish, must be greased with mayonnaise. The finished dish is better to put in the fridge, so it infused.
Salad with mushrooms and nuts
A good recipe for vegetarian salad for the New Year allows you to prepare a healthy and tasty dish. As such an option, you can offer a warm salad with mushrooms, nuts and beans.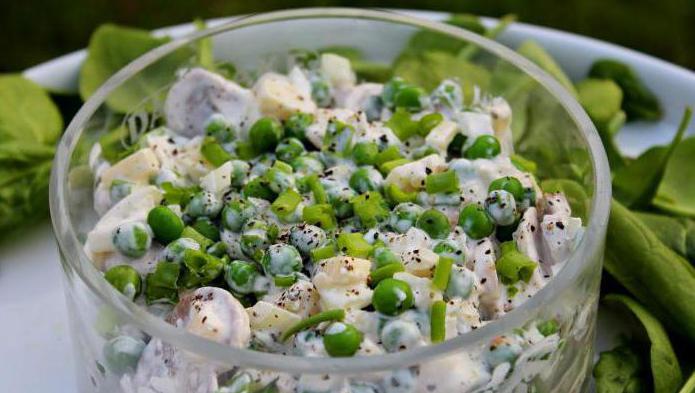 Ingredients:
a can of canned peas, beans;
Champignon;
onions, walnuts (60 g);
green onion feathers;
pepper;
salt;
butter;
greenery.
Peel and chop the onion, then fry it in vegetable oil for a few minutes. Next, wash, clean the mushrooms, cut them into cubes and send them to the pan. Fry all together for three to four minutes over medium heat. We open the canned beans, wash them and let them drain. After sending it to the mushrooms and fry all together for seven minutes. Do not forget that the contents of the pan all the time you need to stir.
We grind greens, onion feathers. Garlic must be chopped. Nuts are also ground in any way.Open the canned peas, drain the liquid and shift it to the salad. There we put nuts and greens. All mix and fill with vegetable oil. New Year's vegetarian salad served on the table in the form of heat.
Pineapple Salad
On the New Year's table, of course, I want to see festive vegetarian salads. As such a dish, you can make a snack of cheese and pineapples.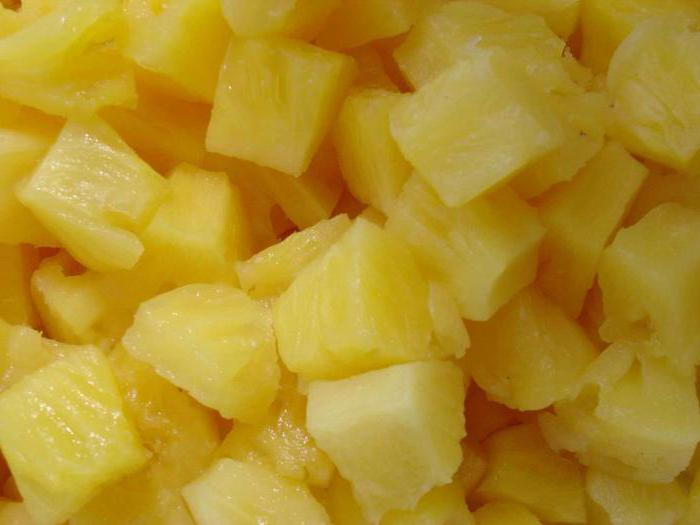 Ingredients:
cheese (420 g);
Pineapples (420 g);
two eggs;
carrot;
lettuce;
garlic;
mayonnaise for refueling.
Lettuce leaves thoroughly washed in running water, then dried using paper towels. Put them on a flat plate. Top with carrots, peeled and sliced ​​oblong slices.
Now let's do a pineapple. Here are several options. For example, you can use canned fruit, then open the jar, drain the liquid and cut the washers into cubes. If you purchased fresh pineapple, then it must be peeled and then cut too. Grind cheese with a grater. We cut the garlic with a sharp knife very finely. Hard-boiled eggs rubbed.The ingredients are mixed and dressed with mayonnaise. Salad spread on the prepared dish.
But you can spread a lot and layers, lubricating each of them with mayonnaise. On top of the dish can be decorated with greenery or several pineapple washers.
Salad "Harmony"
On the eve of the holidays everyone thinks about the menu: what vegetarian salads to cook for the New 2018 year. Even with strict rules of nutrition, you can pick up interesting options. Very beautiful and truly summer salad turns out "Harmony".
Ingredients:
tomatoes (three pieces);
cheese (170 g);
bow;
a small jar of olives;
parsley, basil;
for refueling we will use a mixture of vegetable oil with lemon juice.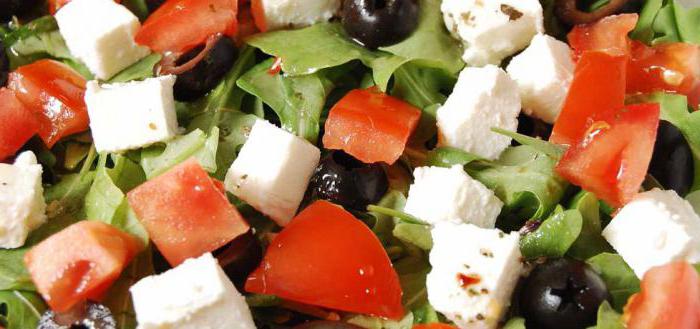 When buying tomatoes, try to choose non-watery vegetables, otherwise the salad will not be so beautiful. Cut the tomatoes into cubes or slices, and onions - half rings. Chop the basil and parsley. Also in the salad put chopped cheese. We add olives to the dish, it is possible in the whole form, but without a stone, or it can be ground beforehand. All components are mixed. And we fill the salad with vegetable oil with the addition of the juice of half a lemon.
French Salad
Among the recipes of New Year's vegetarian salads there are a lot of dishes for the preparation of which the most ordinary products are used. However, this does not make them less tasty and healthy.
Ingredients:
two carrots and as many apples;
mayonnaise;
bow;
hard cheese (170 g);
four eggs.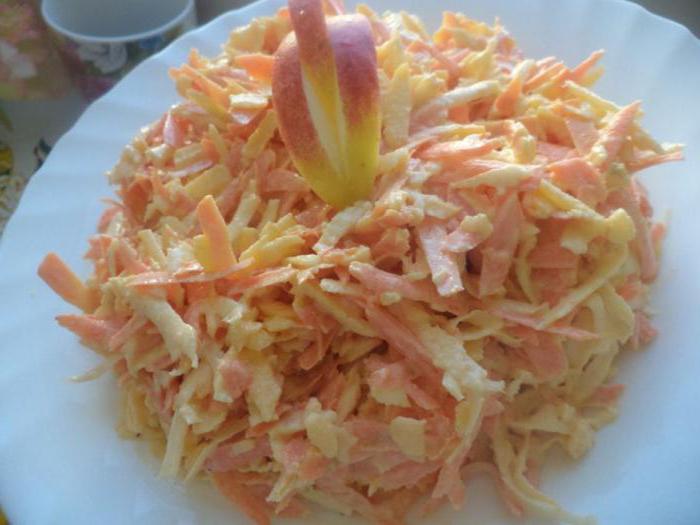 To prepare the salad, we will need to take four boiled eggs. While they are cooked, peel the carrot and grate it, dice the onion. Apples wash and remove the skin. They also grind on a coarse grater. Boiled eggs are cooled, cleaned and also rubbed. Now that we have prepared all the ingredients, we can begin the process of assembling the salad. On a flat dish first lay out onions with mayonnaise, then eggs, apples and carrots. And it is worth smearing each layer with mayonnaise. If you do not use it, you can replace the sour cream. The top layer of the dish is cheese.
Top salad can be decorated with greens and slices of tomatoes, then it will become a real table decoration for the New 2018 year. Vegetarian salads are slightly different from our more familiar counterparts using meat and sausage. But among them, too, there are many wonderful dishes.
Greek salad
As one of the New Year's vegetarian salads (recipes with photos are given in the article), we can offer the classic version of Greek salad. This dish is always desirable, no matter what time of year it is on the street. In summer, it is very refreshing. And at the same time, the dish is nutritious and tasty. In winter, it can become a real decoration of a festive feast.
Ingredients:
three tomatoes and cucumbers;
feta or sheep cheese (180 g);
Red onion;
olives (jar);
Bulgarian pepper;
olive oil;
pepper;
salt;
oregano;
lemon juice.
Despite the fact that the salad is prepared in minutes, it is very tasty. All vegetables must be washed and cut into cubes. Sweet lettuce chopped half rings. Chop and dice the cheese. In the salad bowl add all the chopped products, add olives, salt and pepper. But to fill the dish is best with a mixture of olive oil and lemon juice.
Fruit salad
Recipes New Year's vegetarian salads are not limited to only vegetable. After all, you can cook delicious fruit dishes that will decorate the table. For cooking, you can use any available fruit.
Ingredients:
two apples;
honey (two tablespoons);
two bananas;
a couple of orange and mandarin;
grapes (230 g);
lemon.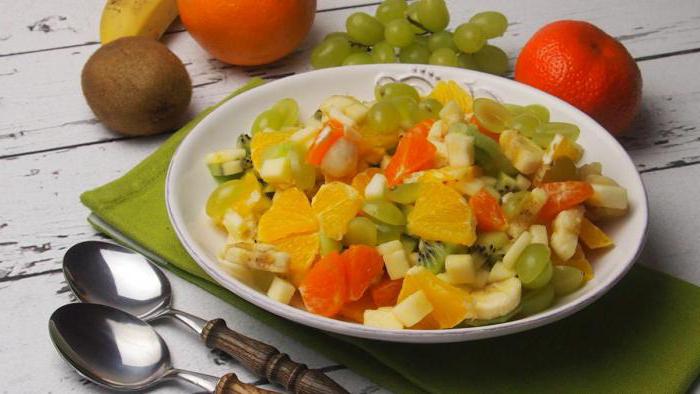 All fruits are washed and peeled from the peel and peel. Next, proceed to the preparation of refueling for the dish. Honey must be mixed with lime or lemon juice, and then stirred until smooth. Next, we take a beautiful salad bowl, we put in it grapes, sliced ​​fruit, slices of mandarin. The components are mixed and refilled honey mass.
Mint salad
Among the best recipes for vegetarian salads should pay attention to those that are prepared from simple products. We offer a wonderful salad with mint. The secret of his success lies precisely in the addition of mint leaves.
Ingredients:
tomatoes and cucumbers (2 pcs.);
a small bunch of mint;
lettuce leaves (190 g);
olive oil;
lime;
pepper;
salt.
Cut mint leaves and put them in the dish. We also squeeze lime or lemon juice, as well as grated zest. Add pepper and salt to taste. We lay out clean lettuce leaves on a dish, pour diced cucumbers and tomatoes on them, season the salad with mint-lemon mass and olive oil.
Cabbage, Lemon and Pineapple Salad
A delicious salad will surely become one of your favorites if you try it.
Ingredients:
cabbage (230 g);
pineapples (170 g);
carrot, cucumber;
walnuts (60 g);
lemon, mayonnaise;
canned corn
Thinly chop the cabbage and slice the cucumber. Grind carrots on a medium grater. All vegetables are mixed, add chopped canned pineapples, corn and nuts. Salad dressed with mayonnaise, but you can use sour cream.
Salad with cottage cheese made from fresh vegetables
From fresh vegetables you can always cook a delicious salad, which will be especially relevant in winter. The combination of vegetables with fresh cottage cheese gives a stunning effect.
Ingredients:
sweet onions (1/2 onion);
two large sweet peppers;
three cucumbers;
four tomatoes;
ground pepper;
olive oil;
greenery;
cottage cheese (230 g).
The classic combination of cottage cheese and greens is widely used for making delicious snacks for the holiday table. However, in salads, these ingredients together with fresh vegetables are perfectly combined, giving new taste sensations. To cook a vegetarian dish, chop the vegetables into large pieces.Put them on a large, wide dish, add salt and pepper. We fill vegetables with olive oil. Cottage cheese, a little salt, laid out on top. Next, salad richly decorated with greens. It is believed that such a dish can not be mixed so that vegetables do not let the juice. But you can do this just before serving.
Blue Cabbage Salad
Blue cabbage is not less tasty than its bright sister. Yes, and on the festive table, it looks bright and beautiful. And in combination with tangerines, which are a real symbol of the New Year, you can get a delicious salad.
Ingredients:
four sweet mandarins;
blue cabbage (530 g);
garlic;
walnuts (45 g);
tablespoon honey;
vinegar;
olive oil;
black pepper.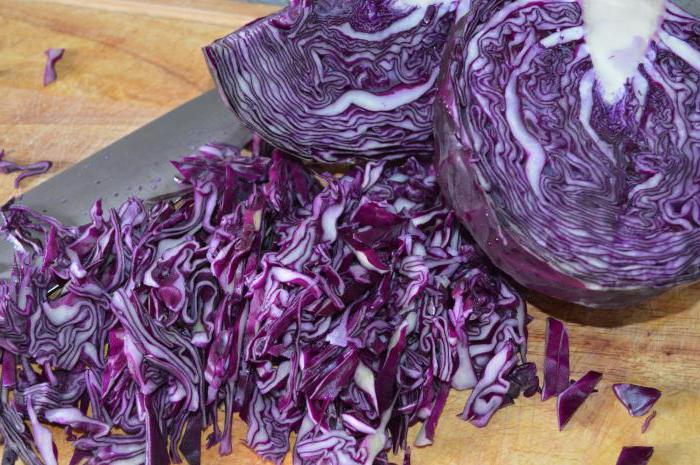 Cabbage very finely shred and carefully mnem hands, adding a little salt. Vinegar mixed with olive oil, chopped garlic and honey. Mass whip with a whisk. Cabbage seasoned with the resulting sauce, adding freshly ground pepper. Stir the salad, add roasted chopped nuts and finely chopped tangerines into it. The dish will delight the explosion of colors and great taste.
Salad with beet and goat cheese
To prepare the original salad, you must purchase real goat cheese.
Ingredients:
two large boiled beets;
sweet onions;
orange;
walnuts (65 g);
olives (60 g);
vinegar;
olive oil;
salad mix (140 g);
goat cheese (280 g).
Beets certainly boil or bake it in the oven. The type of processing is not so important, although a baked vegetable is considered more useful. Chilled, peel it and cut into thin slices. Orange flesh cleared of films and cut into small pieces. Sweet onions cut into half rings. On a shallow dish, lay out lettuce leaves. Put vegetables on them, dressed with a mixture of vinegar and olive oil. Sprinkle the dish with roasted and chopped nuts. And on top lay out goat cheese. Festive salad is ready.
Instead of an afterword
Any favorite salad you can turn into a vegetarian, removing meat and fish from recipes. Of course, there are different directions of this trend, but we hope that the recipes given by us will help to some extent make you a festive menu.
Related news
Vegetarian salads for the New Year: recipes image, picture, imagery